ARTS 2020 "Foundations in Digital Concepts"
Course created and taught from 2012-2016 when I was Assistant Professor in the Department of Art at Columbus State University
Digital Concepts offers an overview of using digital tools to express basic themes of contemporary art. The course is comprised of studio projects accompanied by class discussions, historical introductions and critiques. Some materials covered in the class are a continuation of knowledge acquired in 2-D and 3-D design, but most techniques and ideas are new forms of thinking and visual expression.
This course is not just about learning to 'make' things on the computer, it is about developing a way of 'being' with/in an evolving digital and post-digital culture. For this reason, the course begins with a project that involves more reading/looking/listening (research) and proceeds towards projects that are more creative and artistically challenging.
This course looks at the role of digital technology throughout contemporary art practice. In this project-based course students learn established workflows as well as strategies to foster a long-term knowledgebase of contemporary tools. The course is structured to move through the following modules: Digital Literacy, Appropriation & Remix, Visual Narrative, Performance and Video, and Participatory Art. The majority of readings group discussions occurred in the first few weeks of the course as students are expected to critically reflect upon our relationships and behaviors in a digital/internet culture. This is also the time when they are learning how to set up a WordPress website and develop a weekly practice of blog writing in connection to the readings and videos. Following this foundation in critical thinking, studio projects are assigned that allow for technical and experimental responses to the thematic modules using media including Photoshop, Illustrator, Adobe Premiere and Final Cut. The projects encourage the option of expanding on works completed for other courses, expanding or altering the meaning through exploration of digital media.
Digital Concepts – http://digitalmediaconcepts.wordpress.com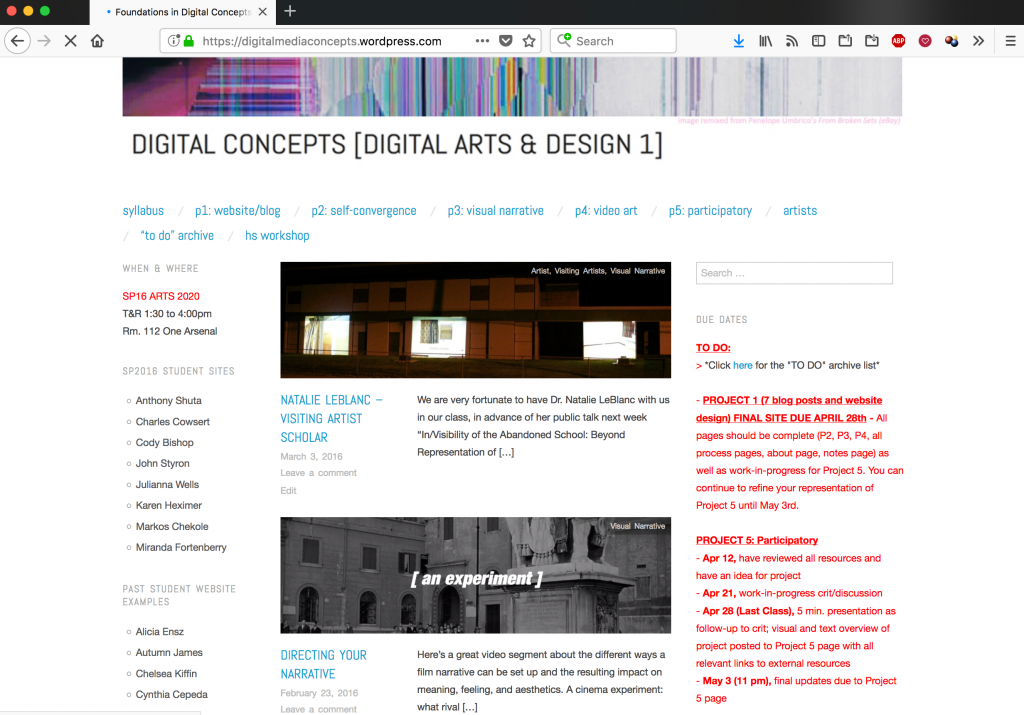 Share this learning activity with others