From 2005 to 2012, I was an active member of a co-operative housing community (Laura Jamieson Housing Co-op) in East Vancouver. In addition to being a Board member for 2 years and a member of the co-op's newsletter editorial team for 5 years (photos, layout, design), I performed duties as the coordinator of flooring installation. As the Coordinator of Flooring Renovations, I organized and facilitated the reflooring of 22 suites. I was primarily a mediator between co-op members, contractors and the Cooperative Housing Federation of BC.
In 2007, I was part of a small group of co-op members who organized a block party, which involved closing off the street to live music, food, and children's games.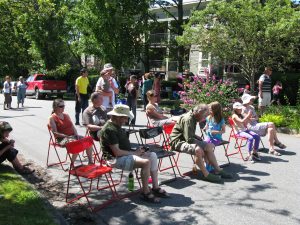 Summary of co-op duties I performed:
2009-2012: Coordinator of Flooring projects; Liaison to Co- operative Housing Federation of BC. Organized installation of 22 suites and acted as mediator between multiple contractors and suite residents.
2007-2009: Member of Board of Directors
2007-2012: Editorial team, The Laura. Newsletter for a housing co-operative, published 4 times a year
2007-2012: Committees I was part of = Newsletter, Maintenance, Flooring, Participation, Pest Control
Share this learning activity with others